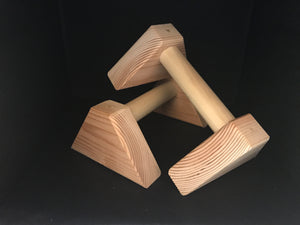 Miniletts
Regular price $29.95 Sale
Miniletts are great for working out at home, in the office, at the gym or even in a hotel room. These are great on the go, whether you're traveling across country or on your way to work. They fit right in your bag to make it quick and easy for you to get your daily work out in.
Miniletts are perfect for building, conditioning and strengthening muscle. Use them for:
• Tuck Sit
• L-Sit
• Tuck Planche
• Straddle Press to Handstand
• Push-ups
• Handstand
• V Sit
• Tuck Planche to Straddle Planche
• Pike Press to Handstand
• Planche Push-ups
• Pike Press (no wall)
• Broomstick Presses
• Straight-body Planche
And MANY more!
8" long 3 1/2" high 1 /18" popular dowel rod with pine bases
Sold in pairs
Made in the 🇺🇸 USA